I have read 70 books for #bookaday. Number 70 was an ebook, my first one! My new goal is 75 books by the end of summer vacation. Glad to hear from those of you who are sharing your summer reading progress. Read on!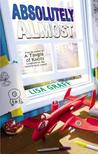 Absolutely Almost
by
Lisa Graff
My rating:
3 of 5 stars
An interesting story that would be great for many talk worthy discussions. I think readers will constantly be asking questions and wanting to read more to find out what happens next. I was left with a few unanswered questions which is a reflection of the type of reader I am and how I enjoy talking about the books I read with others. I enjoyed the characters but was disappointed in the behavior of several of the adults. I felt the same way after reading
We Were Liars
, but not to the same degree. Let me know what you think.
View all my reviews
The ebook that I read was
The Adventures of Ai
, by Craig Bouchard. It isn't on Goodreads just yet, so I will review it for you myself with the appropriate links. This book is just right for my middle school and high school friends. The story is a combination of memoir and legend told in unique time shifts, including concepts of math, poetry, history and art. There are some interesting elements of the legend that made me want to learn more about Japanese culture and mythology. The lesson to "never be afraid to try your best," and to "follow your dreams," comes through in a unique way. Readers will enjoy the photographs and the epilogue. I was left with some questions that I would want to ask the author, and wonder if there are more Adventures of Ai on the horizon. I think readers would want to learn more about Ai and what happens AFTER the story ends. There is
a free game to download for iTunes
or on
Google play
. If you read the book, or play the game, let me know what you think. Perhaps playing the game will make you want to read the book! Post a comment and let me know what you think!