Here are some of the books that I have been reading since I returned home to the US from my vacation. While I was away I read many non fiction books on the sights that I was visiting in the form of guidebooks, articles and travel books. It was great to vary my diet and read some fiction. What have you been reading lately? Leave a comment and let me know.
Mrs. W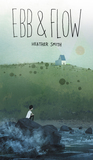 Ebb and Flow
by
Heather Smith
My rating:
5 of 5 stars
Absolutley loved this story! Strong message, great characters. Perfect for spring 4th graders and beyond.
View all my reviews
Bonkers About Beetles
by
Owen Davey
My rating:
4 of 5 stars
Great non fiction read about beetles. Will definitley check out more books by this author.
View all my reviews
Great story for young ones experiencing a move.
Lobed it! Great connections, diverse and perfect for the first few weeks of school.
Loved it! Great for point of view, history and the illustrations. Sean Qualls is one of my FAVORITE illustrators.